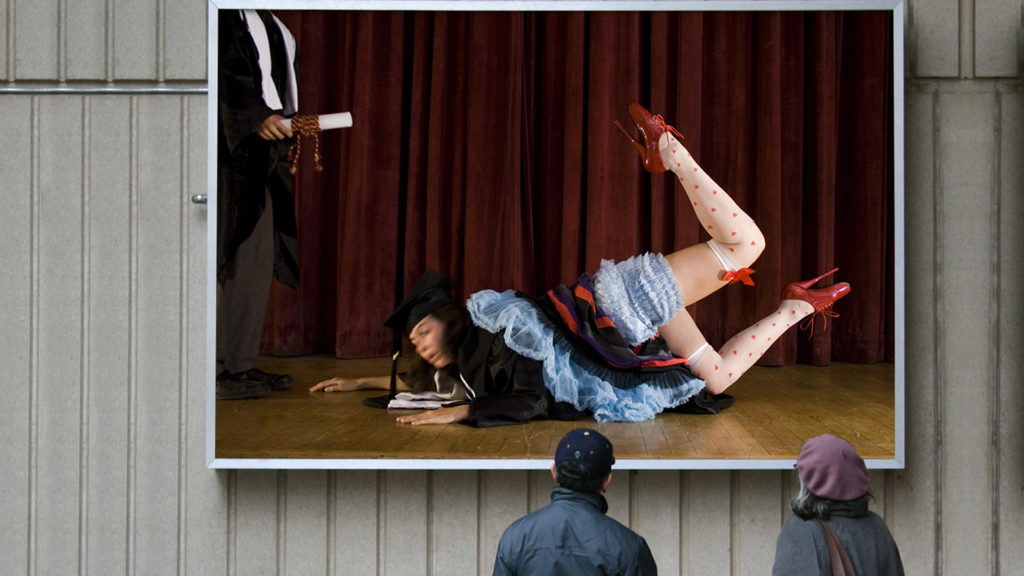 Photograph, Lightbox
2009
with assistance from Erin Kobayashi.
Alison S.M. Kobayashi is an identity contortionist.
In her work, Kobayashi incarnates a panoply of personas that are both studiously and playfully rendered. She strides a tense line between portraiture and caricature which presents a palpable commentary on the strictures our identities are continually subjected to. In each performance (usually made specifically for video), she synthesizes both the nuances as well as the stereotypes of each of the characters she embodies. Back and forth from finesse to crudity.
In The Seven Inch Fall, commissioned by the Blackwood Gallery in connection with its Fall 2009 exhibitions exploring notions of gravity, Kobayashi draws from the experience of her own recent graduation from the Art & Art History Program at UTM. To compose the image the artist references specific components of three films: Sandra Bullock in Miss Congeniality, Disney's Alice in Wonderland, Powell and Pressburger's 1948 classic The Red Shoes (see video clips below). The latter is particularly germane as a latent theme of the film is the fraught relation between apprentice and mentor, novice and veteran, teacher and student. Kobayashi is also playfully addressing the recurring scenario found in romantic comedies where, in her words, "a character turns heads with confidence and sex appeal in her stride, but suddenly, heels wobble, balance is lost, and she comes tumbling down from the film's pedestal of feminine perfection."
The provocative image stages a fall which derails the reception of her diploma. The diploma is held in suspense by an anonymous man, an abstracted personification of authority. The final act of graduation is put on hold. Will she ever graduate? Does she actually want to? Perhaps the answer to those questions lies in the incongruous elements of the image—the movement of the face versus the rigid pose of the legs. The paradox of a still fall. The perplexing red shoes with their implausible angles further heighten the tone of ambiguity pervading the work. In other words, the image does not provide an answer, rather it poses a critical set of questions. Prominent amongst them is the specter of failure that is brought to the fore within an institution whose maxim espouses success. While accomplishments are undeniably laudable, the artist seems to unabashedly embrace an alternate scenario to the one where a diploma is the end goal. What could be the fallout from such a dissident position?
—Christof Migone, Director/Curator Blackwood Gallery